Important deadlines:

Submission (closed)
May 11, 2014
Acceptance notification
June 15, 2014
Payment of fee
July 10, 2014




Last modified:
December 27, 2021 15:49:06 (gk)
Conference Proceedings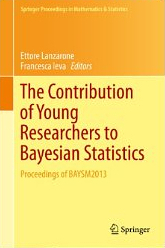 Following last year's overwhelming success, we cordially invite all presenters at BAYSM'14 to submit a chapter for the Proceedings of BAYSM2014, irrespective of whether their contribution was a poster or a talk. The work will be published in a book of the series Springer Proceedings in Mathematics & Statistics; publication will be free for authors.

To ensure high quality of published papers, there will be a second round of peer reviews. The following deadlines apply:
Initial upload: no later than October 20, 2014 (extended to October 26, 2014)
Decision/Feedback: no later than November 18, 2014
Final upload: no later than December 1, 2014

The manuscript must be prepared in LaTeX employing the Springer format and contain a maximum of 10 pages in total. Style files, template files and instructions for the chapter (different from those for the online publication) can be found here. More detailed information is provided in the Springer manuscript guidelines.

To facilitate submission, review, notification, and publication, please upload your paper here. Note that you might need to register first by clicking on the green "Key" symbol.

It will be possible to put supplementary material, e.g. computer code or additional illustrations, on SpringerLink along with the individual chapters.

We aim for publication early 2015, so please adhere to the deadlines!